Bangalore Burning! What's Hurting India's Much Loved City?
How on earth could this have happened? Among the country's most loved cities, revered for its peace and accord, Bangalore is blazing with widespread chaos and disharmony. Bangalore has been rocked by a series of seemingly unworthy protests with violence and civil unruliness being at the centre of the alarming state of affairs. Reports suggest that conflicts arising out of Cauvery river issue is at the heart of the crisis. Here's all that you need to know: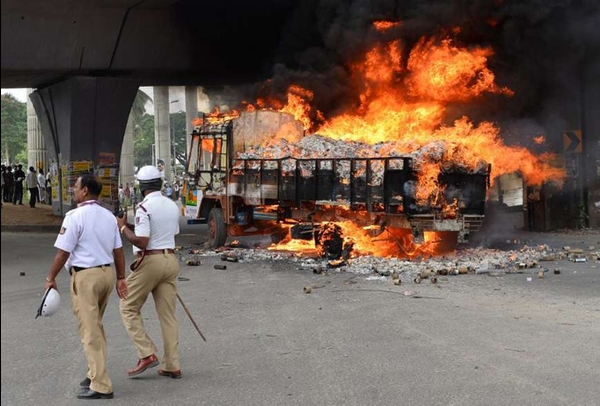 1. What is the Cauvery river issue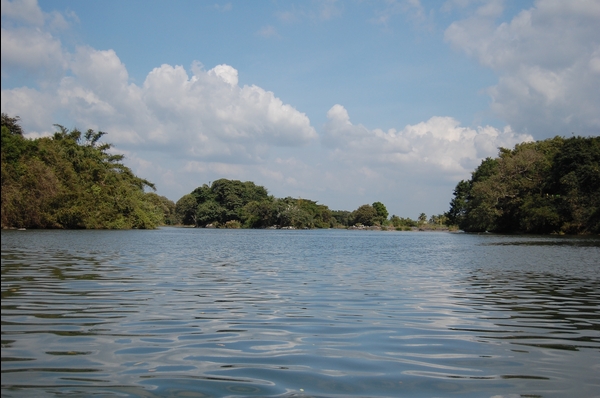 An important source of water for the twin south Indian states- Karnataka and Tamil Nadu- ever since 1924, water from the Cauvery has been allotted to be utilized by both states. But, the issue has been marked by several rising conflicts in the past decades from both ends of the state spectrum.
2. So what exactly is the 'burning' issue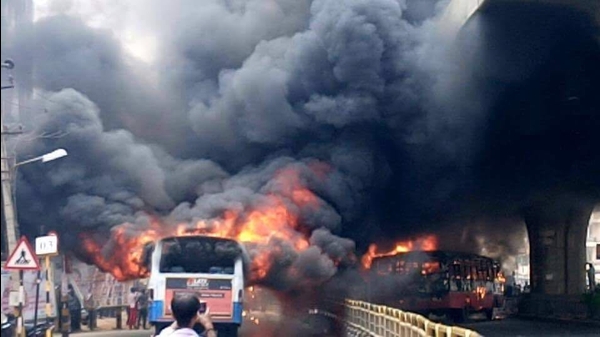 Approximately 44000 km2  of Cauvery is located in Tamil Nadu and 32,000 km2 of the river basin is in Karnataka, of the total 804 kilometer length. Recently on September 5, when the Supreme Court asked Karnataka state administration to release water to Tamil Nadu to assist farmers in neighboring state for irrigation, things didn't go down too well on Karnataka's side. Days later, we see Bangalore being stuck by a series of strikes and public show downs in a manner that is unprecedented in the state's history. 
3. State Police facing an uphill task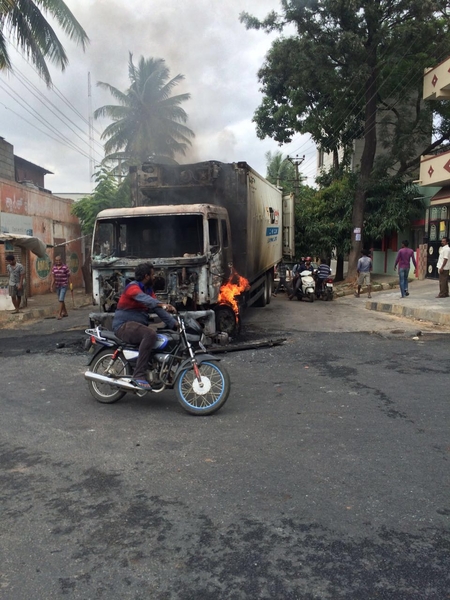 A city otherwise peaceful, jolly good natured and quiet, minding its own business has woken with anger and furor, clearly terms that haven't been used to ever describe Bangalore. The Bangalore Police have clamped prohibitory orders as part of preventive measure to curb chaos.
4. A city brought to a standstill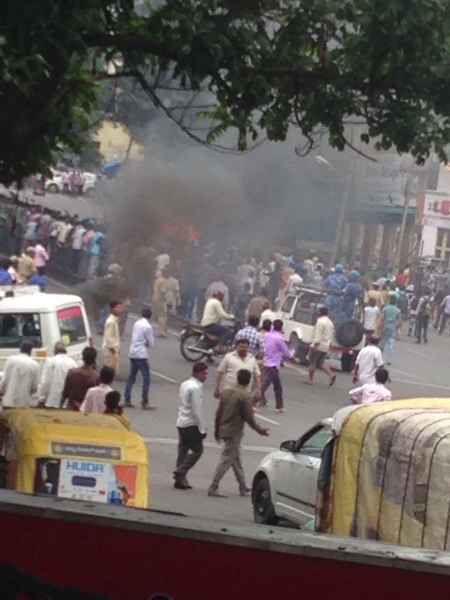 Most social-constructs of the 'Garden City' have been cheated off its peace and charm, with schools, shopping malls, universities and other public places being bereft of its usual humdrum and calm. While some schools have deployed additional teachers to ensure that children reach their homes safely, parents have been asked to simply take their kids home. With colleges declaring half a day holiday, executives working in tech companies took to social media to caution fellow residents about the ensuing chaos.
5. No easy day in Tamil Nadu either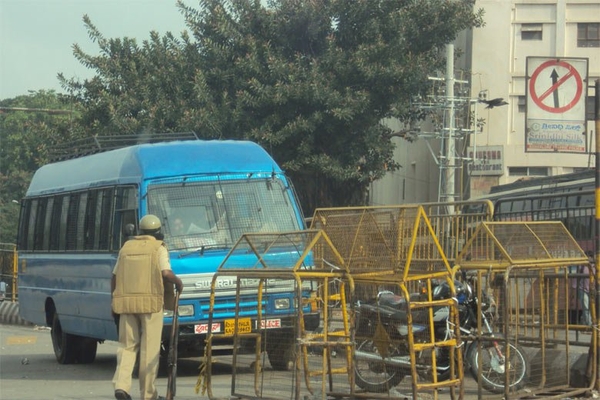 With reports of widespread violence and chaos in Karnataka making news, similar events gathered steam in Tamil Nadu as well. Any symbol or thing standing for Karnataka in Tamil Nadu is being targeted with reports of growing unrest being reported from the state.
6. Massive policing required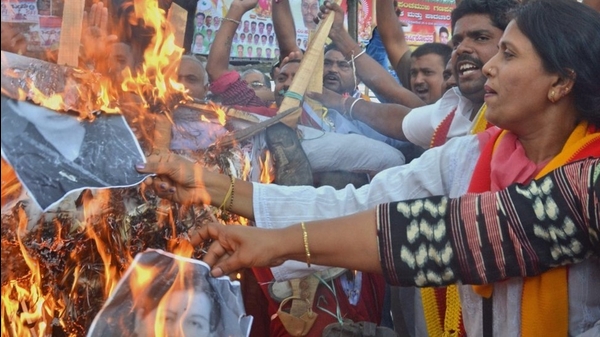 Thus far, 18000 police personnel have been deployed to take control of the violent protests and civilian unrest in Bangalore. The situation reached an alarming state after protests in popular and massy areas including- Mysuru Bank Circle, Yelahanka New Town, Mysuru Road, NICE road. 400 persons have already been arrested so far suspected of being miscreants to the ensuing unwanted action.
7. Borders sealed and tensions escalated. Is this for real?
Several of Tamil Nadu's border areas have been completely evacuated and sealed in front of the developing events. The Tamil Nadu border area alongside Chamarajnagar district along with popular industrial area toward Hassan have been sealed and being manned by police. Raising anti-Tamil Nadu slogans in Karnataka, setting vehicles on fire and pelting stones at trucks coming in from T.N., the picture is not looking good for both states. 
8. Section 144 implemented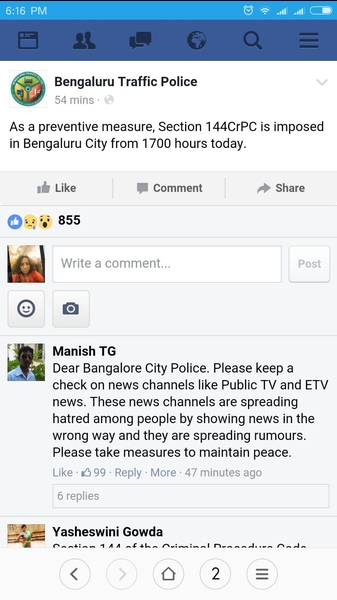 Within hours of the outbreak of tensions and escalating social chaos in Karnataka, the law played its own role- by implementing section 144 at Bangalore. This means, four or more people cannot gather or congregate on any road unless the ruling is lifted. 
9. Manic Twitter outbursts with news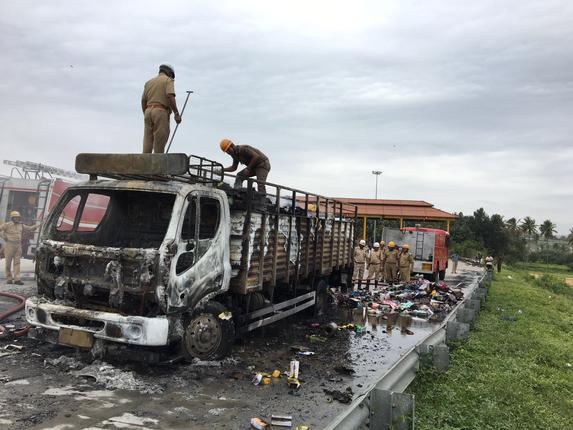 Twitter, world's micro-blogging habit has been continuously besieged by news updates from both states at loggerheads with the news of section 144's implementation being confirmed by CM's on either sides first on the said social media platform.
10. Beaten and battered for what? Is this fair?
Using popular social media site Facebook to voice his naivety if it can be called on Kannada film stars, a young Tamilian was thrashed by some Kannadigas. And within days, a young driver from Karnataka was hurled up and beaten by a pro-Tamil group, who forced him to admit, "Cauvery belongs to Tamil Nadu".  
With peace being a matter of immediate urgency, it remains to be seen what the Law and Judiciary can do in restoring peace and amity among two beautiful parts of India amidst such mindless violence.
Some of the images and the feature image is sourced from WhatsApp where concerned citizens floated images of Bangalore burning, as it happened.
Do you have something interesting you would like to share? Write to us at [email protected]
Featured Image Sources &nbsp
1
&nbsp