The Royal Wedding – Memes & More from Here & There
Meghan and Harry are married. The much anticipated royal wedding is done and dusted. The meme factory is not, however. The royal wedding pictures are everywhere – perfectly posed and colour coordinated, they are all very lovely! But let's face it, the memes and social media reactions are more interesting: here is a pick of the best following the royal wedding of Prince Harry and Meghan Markle.
Fairytales can come true
This photo of Meghan Markle taken many years ago has become at least as famous as some of the wedding photos. This is her with a friend; as tourists outside the Buckingham Palace at age 15. Clearly we don't know what destiny has planned for us, sighed all the romantics on Twitter!
Clearly they can!
This royal wedding was clearly a blow by blow repeat of Cinderella! Someone went to lot of trouble to (and watched Cinderella many, many times, evidently) to create this!
#BlackRoyalWedding
Not only was a bride a divorcee of mixed ethnicities, there were many prominent African American guests such as Oprah Winfrey, Serena Williams and Idris Elba in attendance. Bishop Michael Curry quoted Martin Luther King Jr. among other things. Here are the excerpts.
Goose-bump-inducing performances
The performances included Kingdom Choir performing an absolutely stunning, rendition of Stand by Me as well as a breathtaking solo performance by the 19 year old cellist Sheku Kanneh-Mason. Many thought that the diversity on show was important; even path breaking.
Gift bags on sale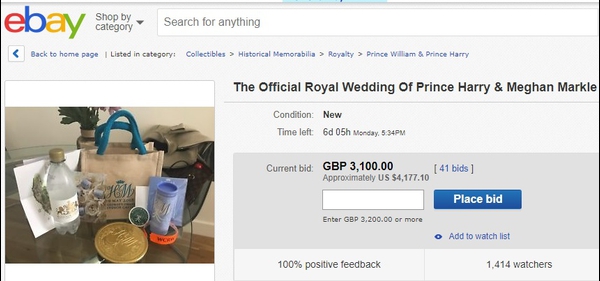 From the significant to the purely mercenary! This is not a meme, but an interesting vignette of the wedding: the people gathered outside the wedding venue received goodie bags containing a water bottle, chocolate coin, shortbread, spectator badge, parking sticker and other odds and ends. Some decided to sell these to make a little easy money.
Pippa Middleton's dress choice
People notice the darnedest things! Apparently Kate Middleton's sister's dress was a point of huge interest for many… because someone noticed this!
Green screen!
With the number of films featuring special effects involving green screens, someone was bound to notice this! So what if you're the queen of England and the grandmother of the groom; you can still expect some amount of ribbing.
Some things never change?
Apparently not! That is Prince Harry as a little boy. That is him again, a couple of decades later!
The Ex!
Many curious eyes were on Prince Harry's ex girlfriend Chelsea Davy. Some thought that was regret they spotted on her face, some thought that there was something still there after the seven year relationship the two shared. Some even predicted a morbid repeat of the Prince Charles-Camilla Parker-Bowles saga.
The other Prince
While some were busy trying to figure out what the groom said to the bride, others thought that the older prince was just happy about the food arriving!
Inevitable!
The meme-meisters always seem to have their sights trained on poor Donald Trump. No matter who, or what or where!
This!
No matter how diverse and inclusive this particular wedding was, this EIC video kind of captures part of what the whole Royal Family is about; in fact some are placing bets on how soon there will be 'good news' of a new royal baby on the way!
Do you have something interesting you would like to share? Write to us at [email protected]
Featured Image Sources &nbsp
1
&nbsp