The Best Social Media Reactions to Sindhu, Sakshi
Heartening news has been emanating from the ongoing Olympics for a couple of days now. First there was that little dynamo Sakshi Malik finally ending India's medal drought and now there is inspirational P V Sindhu who has powered her way to into the badminton singles final event; something unprecedented in the history of Indian sport! Predictably when Sindhu defeated demolished her opponent Nozomi Okuhara of Japan last evening all of India erupted in joy. And yes, Shobha De was mentioned:
Virendra Sehwag was very witty indeed!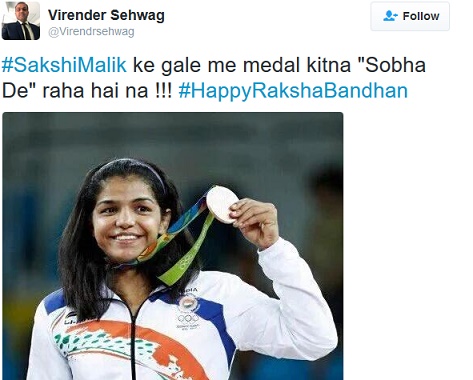 While congratulating the gutsy girl from Haryana he managed to make a witty tongue in cheek comment about Shobha De as well: "#SakshiMalik ke gale me medal kitna "Sobha De" raha hai na !!! #HappyRakshaBandhan"
There was more from Viru
We knew about his ability with the bat; we now know about his felicity with words as well.
Saluting Woman Power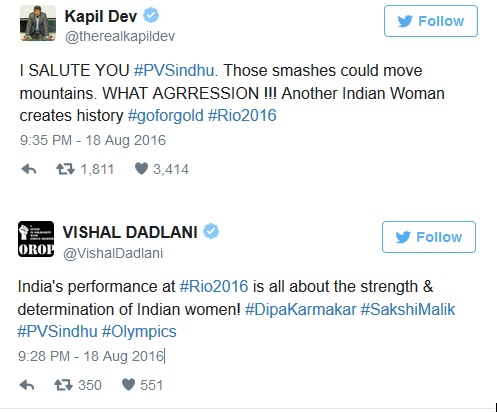 Many ex-sportspersons and celebrities acknowledged the fact that it is the women who are bringing laurels to the country.
Vishal Dadlani had some clever ones
Where the much vaunted male athletes have either performed under par or have had some bad luck, the women have delivered.
Funny man Sorabh Pant had these tweets to share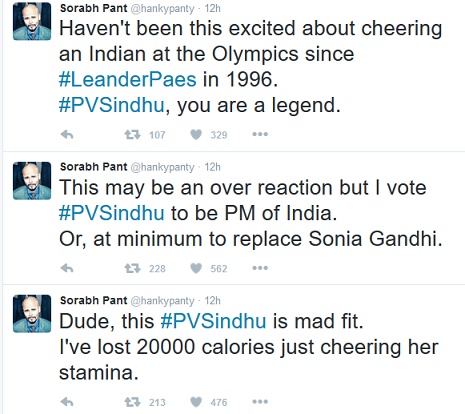 The typically garrulous Pant had a lot to say; clearly delighted by P V Sindhu's masterly performance last night… apparently she would make a good PM says he.
Many remembered to salute the man behind the woman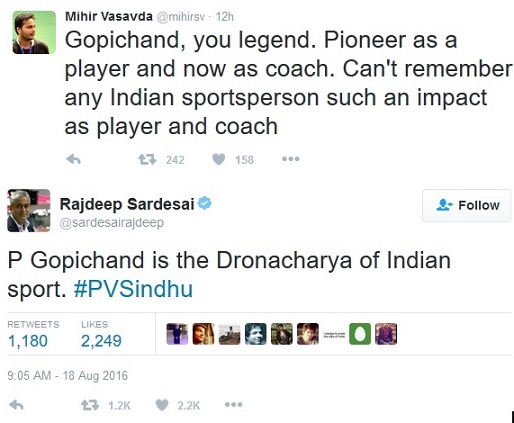 Pullela Gopichand is her coach and the driving force behind P V Sindhu and he was there on the side lines cheering and supporting her throughout. Many noticed and gave thanks.
Abhinav Bindra had these words of encouragement

India's illustrious shooter is the only individual gold medal winner at the Olympics thus far, but he hopes that Sindhu will soon join him in this most elite of clubs. Though she is assured a silver at the least, we're all hoping for a gold!
Success in spite of officialdom

It is well known that officials in India create more hurdles than help in the path of our sportspersons. Very often success are not because but despite officials!
India is rooting for you Sindhu!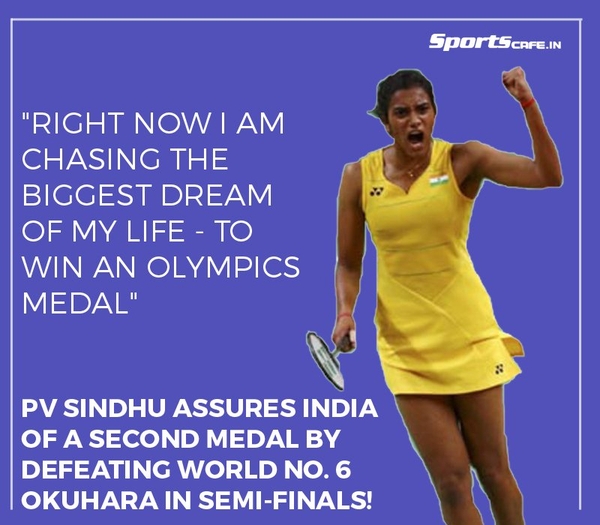 She will play the most important match of her life this evening. Yesterday she wore down her opponent, World No 6 with her relentlessness, but today she plays the finals of the individual event against World No 1 Carolina Marin of Spain. Tune in at 7 PM this evening and #SupportSindhu!
Do you have something interesting you would like to share? Write to us at [email protected]