You Know These Cricketers Because Of These Former Cricketing Greats
Outstanding cricketers have a bit more than just amazing run tallies and wicket-stands behind them. Often, it's the highly unsung and uncelebrated names and individuals who spot in them world class talents that then go about stamping their authority on the great game of Cricket.
So, which are these famous cricketers who were spotted by a fleet of the outstanding men in whose selection the world got to see some amazing achievements.
1. Virat Kohli by Rajkumar Sharma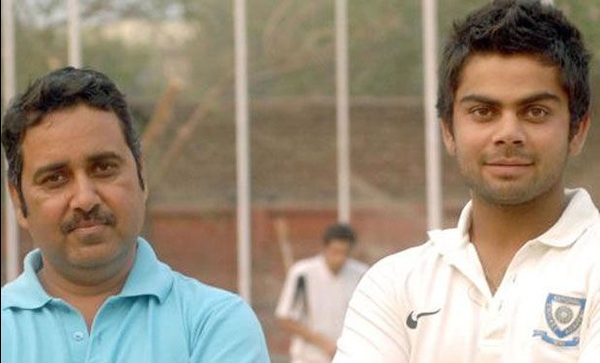 You know him as a synonym to amazing cricketing achievements. His outstanding technique, epic run chases and that flurry of strokes around the wicket, he's  got an entire world hooked on to him, Virat Kohli. But very little is known about the man who spotted him: Rajkumar Sharma.
Former Delhi-off spinner Rajkumar Sharma spotted the incredible talent in a young 9 year old Kohli when he was brought to the coach by his late father. The rest, is history unfolding in front of our very eyes and Kohli hasn't peaked yet, if critics are to be believed.
2. Sachin Tendulkar by Sunil Gavaskar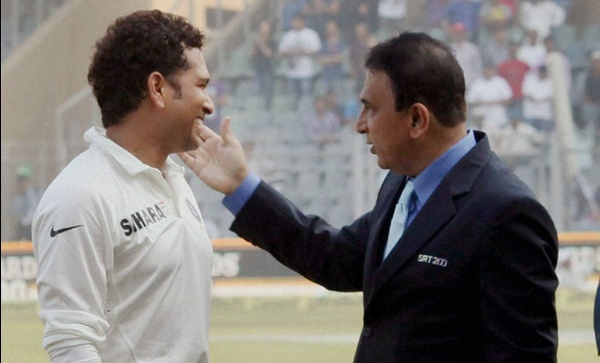 How incredible is that: the little master who spotted the upcoming little master. Both Mumbaikars, both hailing from earnest beginnings leading to meteoric heights and both of them amazing, right-handed batting talents!
The entire world knows and dotes on Tendulkar. But a lot of credit has to be given to Sunil Gavaskar, the man who first brought young Sachin to the attention of the selectors in early 80s. Tendulkar since then, left very little to the imagination in scaling all great Cricketing peaks.
3. Dhoni by Prakash Poddar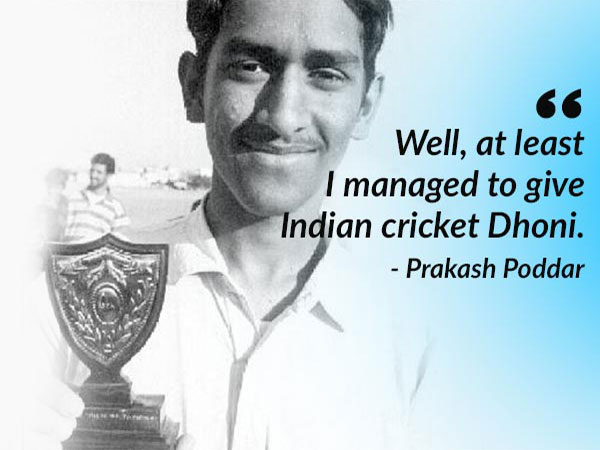 Back in 2003, when the likes of Ganguly and Dravid were at their peak, the former Bengal skipper who was then the BCCI's talent development officer was scouting for young talents from tier-II cities, which led him to Jharkhand.
Seeing a meager 35 runs score, but one fancied by elaborate hits and powerful strokes impressed Poddar about this young relatively unknown bloke called Dhoni. He seemed to have found the man waiting in the wings to be inducted into the national side. The rest, as one can see, changed the landscape of Indian cricket forever. Dhoni was soon taken under Ganguly's wings to hone his bright talent and skills.
4. Ravindra Jadeja by Shane Warne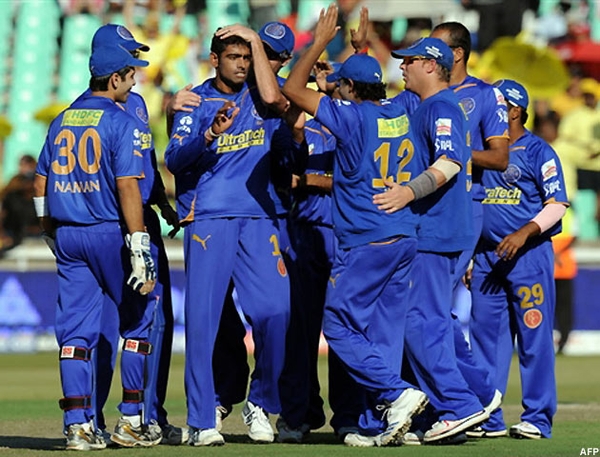 There's an uncanny and fluid chemistry in this particular pair. Back in 2008, the maiden year of the renowned IPL, Jadeja debuted for Rajasthan Royals, under skipper, spin legend- Shane Warne.
Warne was so impressed with the agile cricketer's free stroking abilities and incredible fielding that he had a few words too many about his cricketing talent which further catapulted Jadeja to the attention of the national selectors. Today, Ravindra Jadeja is an integral part of the Indian set-up.
5. Rahane by Dravid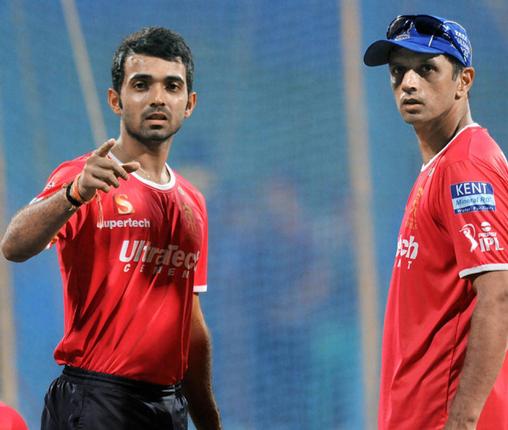 The Wall spotting the 'wall in making'. How incredible is it for one of India's batting mainstays to be spotted by unarguably the best number 3 batsman in the world of all times?
Both, known for their solid game built on the merits of concentration and obdurate defense and focus, played together for Rajasthan Royals for 3 straight years.
But Dravid takes the credit for spotting the batting talent in Rahane and in inspiring him to spur his game to higher levels.
6. Yuvraj Singh by Dilip Vengsarkar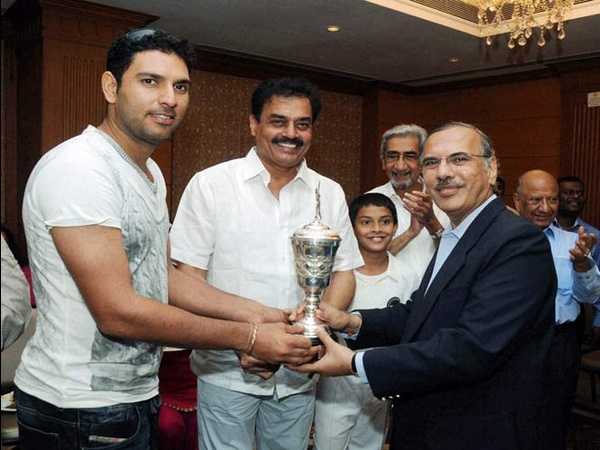 When the left-handed prince Yuvi was just 17, he was spotted by former great Vengsarkar, who labeled him 'a dashing batsman with an exquisite gift of timing'. He noted that Singh was able to effortlessly clear the ground and then take the ball somewhere in range of over 120 meters, a remarkable feat for any world-class batsman.
Yuvraj was soon picked in the Indian side and he would remind the world, time and again, of his brute power and exceptional batting.
7. Dravid by Keki Tarapore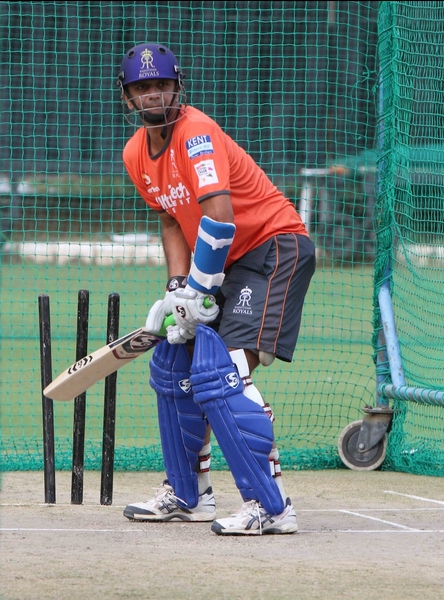 India has been fortunate to have had the long running services of an exceptionally talented batsman in the form of "The Wall" Rahul Dravid.
The famous number 3 batsman, hailed for his infallible technique and strong mental toughness was first spotted by coach Keki Tarapore in Karnataka and ever since coming under his aegis, Dravid developed into an exceptional world class talent, grinding bowlers into dust, deploying patience and a strong defensive technique.
Also coached by legendary Gundappa Vishwanath, Rahul Dravid went on to score tons of runs, 13228 to be precise. Take a bow Rahul!
8. Shane Warne by Alan Border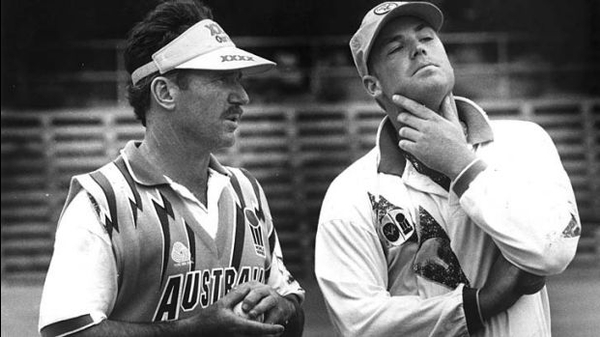 It takes an Aussie to spin another legend in making. Border, Australia's highest run scorer did well to spot the brimming talent in Shane Keith Warne, the world's most loved leg spinner.
With over 700 test victims, Warne did exceptionally well to repay the faith of the Border. 
9. Mitchell Johnson by Dennis Lillee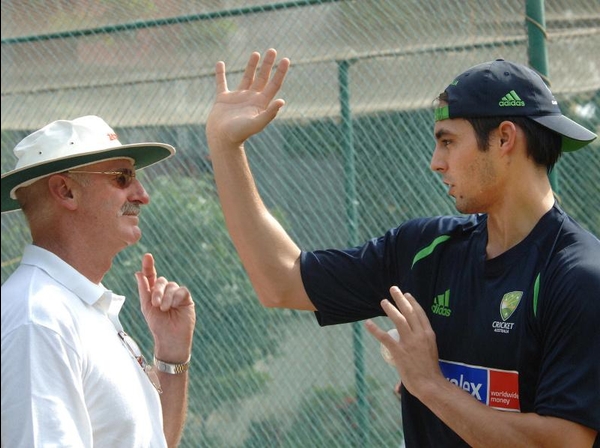 At his pomp, the deviously quick Lillee broke the backs and twisted the toes of world's famous batsmen. And similarly, his pupil, Johnson, spotted when he was merely a teenager did well to cause quite a lot of damage to the timber of the world's best batsmen, Virat Kohli included.
At the age of 17 Mitchell Johnson sprung into the attention of Australia's great fast bowling sensation Dennis Lillee at Brisbane and would then go on to represent the power-packed side in a few years hence.
10. Bravo by Brian Lara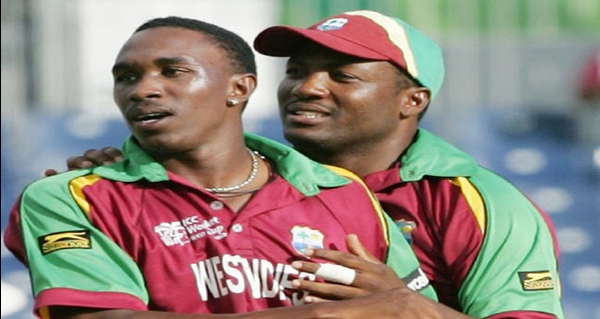 You know him as the world's best 'slower ball bowler' and also as the master composer of many of West Indies' famous T20 victories, a format where they excel. But the 'Champion' singer, who happens to be a Trinidadian was spotted by a very famous Trini himself, Brian Charles Lara, incredibly Bravo's cricketing idol.
Do you have something interesting you would like to share? Write to us at [email protected]
Featured Image Sources &nbsp
1
&nbsp