Indian Armed Forces Take Only One Side - India's!
There are plenty of ways in which our armed forces outclass the armed forces of our belligerent neighbour.  We are bigger in size, with better manpower and arsenal; our naval and air power is better too. But the most significant way in which the Indian Military is streets ahead is its complete and utter commitment to Indian democracy and the way in which it has always remained completely apolitical. While the Pakistan military is scarily powerful and the beleaguered nation has seen military coups that have usurped power and plunged Pakistan into extended periods of military dictatorship, our military has remained disciplined and completely committed to the Indian constitution. Here are all the reasons why I am so very, very proud of the Indian Army, the Indian Air Force and the Indian navy:
The opportunism of political parties remains unacknowledged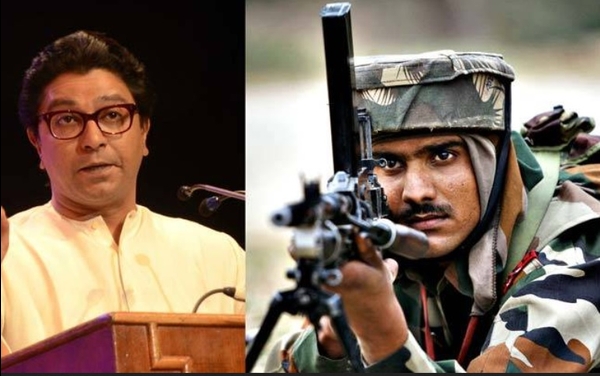 MNS Chief Raj Thackeray, may have won some political limelight for his largely irrelevant Maharashtra Navnirman Sena by extorting Rs 5 crore from Karan Johar, (the Bollywood director so desperate to release his film unhindered that he was seen making promises and begging in a public video and who subsequently coughed up obscene amounts for commercial expediency). However Thackeray's extortion victory has been a hollow one. The Indian military has refused to acknowledge this forced contribution to the Indian Army's relief fund.
The army is wise to those trying to score political points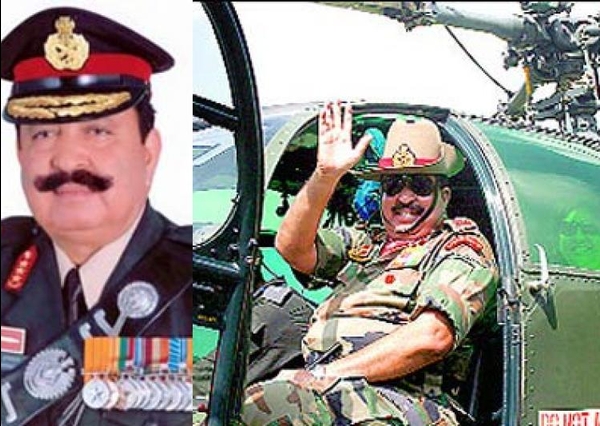 "The army doesn't go around begging for funds. If a film producer wants to donate, he can do it like any other Indian citizen. But it's unacceptable in such a manner," said Former Indian Army commander Lieutenant General BS Jaswal. Does the Indian military need the likes of Raj Thackeray to collect funds for it? It most certainly does not. The military can very much take care of itself without 'help' from Thackeray.
Air Vice Marshal Manmohan Bahadur (retd.) was even clearer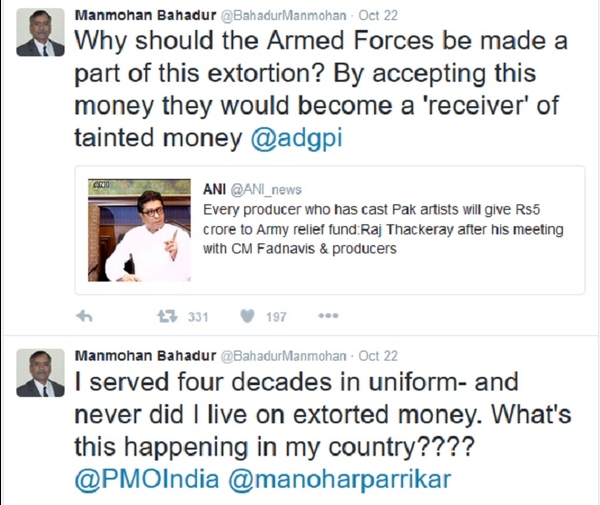 He has appealed to people not to get taken in by political opportunism; by people who use the armed forces as a "crutches for political ambitions".  Just to be clear, AVM Bahaur tweeted that the army never doubts the sentiments of those who donate; but that Raj Thakeray's "extortion" had cast a shadow over this. Kargil war veteran Brigadier Khushal Thakur (retd) also felt that the MNS was exploiting national sentiment.
Our Armed Forces have always remained apolitical at all times…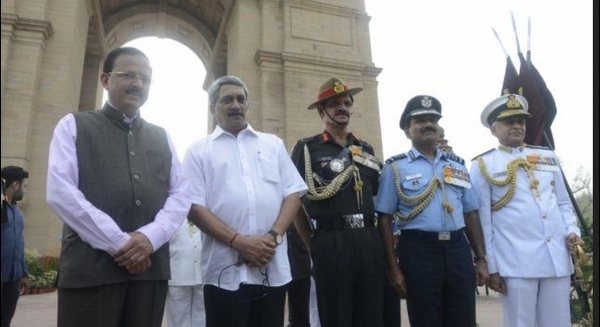 …even when their just dues have been denied (OROP and other instances). The Seventh Pay Commission has downgraded the armed forces personnel and reduced pay grade improvements so severely that the three chiefs felt the need to write to the Defence Minister about this.  The three chiefs later said that the government's rather cavalier response was satisfactory; however this quiet and respectful response is only in keeping with the grand traditions and the discipline of our forces.
Our military is also truly secular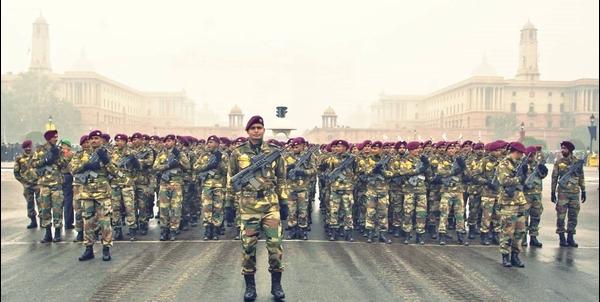 Denominations of religion, caste and creed are genuinely irrelevant in the Indian Armed Forces. It has been the policy of the armed forces since independence, not to raise any new regiments based any religion, region or community. Calls for single class units such as Dalit, Gujarat, Kalinga and Tribal have been strongly resisted; this has been a well defined position.
The military is always at hand to help in a crisis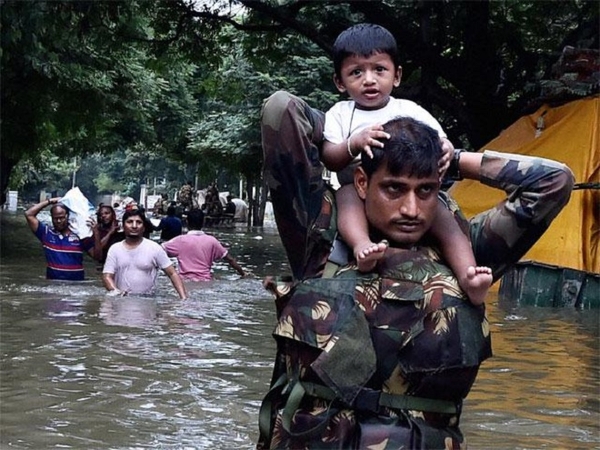 The most effective in disaster relief, our military personnel put their own lives at risk for rescue and relief operations in floods, landslides, earthquakes, cyclones... They don't ask about the religion of people they rescue of where the rescue operations are required to be conduted.
Every military facility has a 'sarv dharm sthal'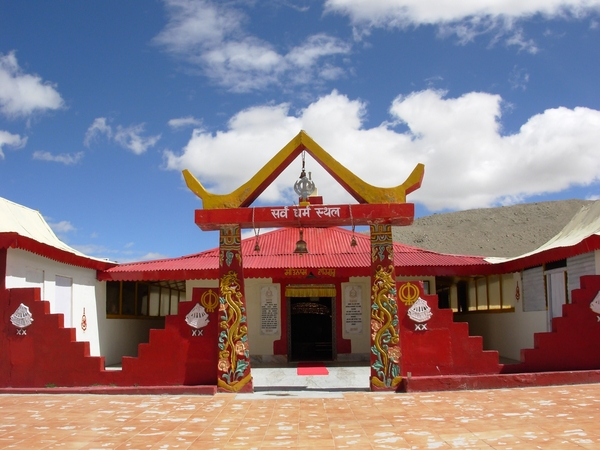 There is always a multi faith shrine or place of worship in cantonments, air bases or naval bases… our soldiers may be religious and deeply faithful at a personal level; our military however is staunchly secular. Festivals are celebrated together. The raising of new units and squadrons means a 'sarv dharm pooja' as well. Why would we let anyone tamper with the precious fabric of our apolitical and secular bravehearts?
Do you have something interesting you would like to share? Write to us at [email protected]
Featured Image Sources &nbsp
1
&nbsp