His Name Is Also Wani, He Is Also From Kashmir, But He Is A 'Son Of The Soil'. This Is His Story
Meet Nabeel Ahmad Wani a BSF examination topper and sharing the common surname with terrorist Burhan Wani. Why is this youth suddenly in the limelight? Well, two reasons, first he is the topper of the BSF entrance examination and that's quite an achievement. 
But all our leaders are praising him endlessly because his surname is also Wani, he is also from Kashmir, and he chose a completely different path from that of the terrorist. Let's take a look at the different reactions.
When Rajnath Singh Met Nabeel
Recently, Nabeel visited Delhi to meet our Union home minister Rajnath Singh and was praised for his hard work and the decision to join BSF. 
Has our home minister met every BSF examination topper in person so far? We have our doubts.
Similar greetings from former chief minister of Rajasthan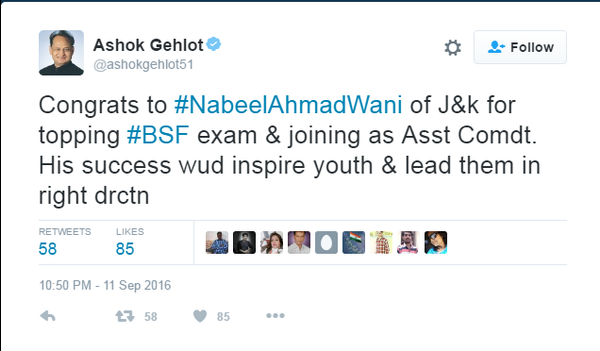 Yes, Ashok Gehlot was prompt to share his wishes for Nabeel on Twitter that showed up on the trending hashtag #NabeelAhmadWani.
Our Urban Ministry also had views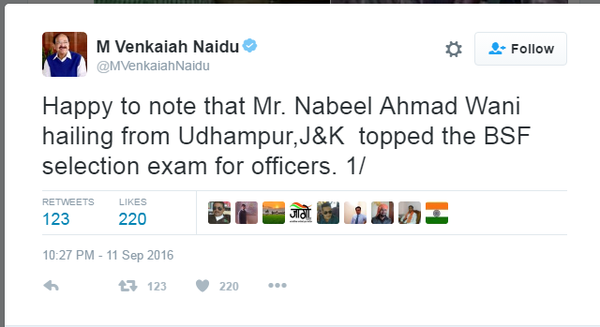 M. Venkatesh Naidu's tweet clearly shows the emphasis being laid on Nabeel hailing from Udhampur in Jammu and Kashmir and, how that changed the complete story for the boy and for the country.
The son of soil comment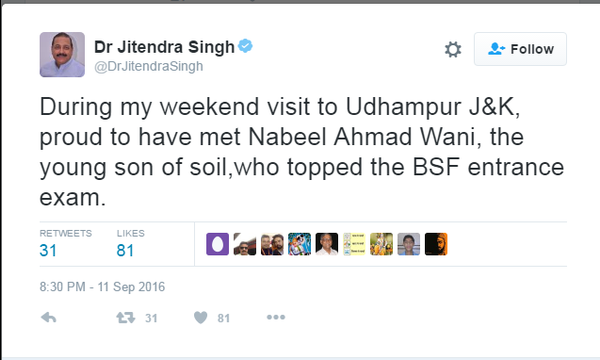 Dr. Jitendra Singh gave a very senti tweet with the 'son of soil' dialogue and we just can't help smile at it.
Nabeel and his commendable thinking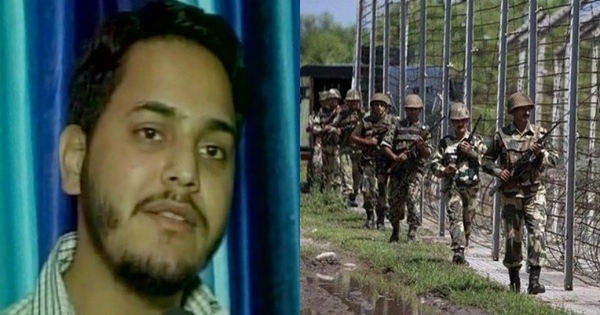 Nabeel touched the right point and that's the unemployment and lack of education for the youth in Kashmir.
He said, "The more educated we are, the better jobs we will get. We cannot get education by taking up stones but by holding a pen."
Kashmir Unrest and EidAlAdha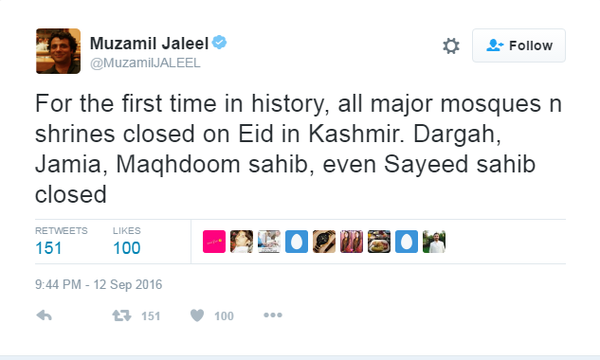 Today, Kashmir is silent, even though the celebrations of Eid are spread across the country. Doesn't every person there at this moment, want to be somewhere else?
Yes, Nabeel Ahmad Wani has done something commandable and is definitely an example for every youth in our country. The fact that his name is Wani, and that he is also from Kashmir makes his choices even more special to the country.
Do you have something interesting you would like to share? Write to us at [email protected]
Featured Image Sources &nbsp
1
&nbsp