#GaneshChaturthi The Beginning Of A 10 Day Celebration And Mumbai Looks So Different
From yesterday evening, Mumbai has decked on a colourful look with lightings, garlands and crackers in just about every corner imaginable. Yes, it began the celebration of Ganesh Chaturthi with idols making it to every home and every pandal across the city. In total there are over 1000 Ganpati pandals set in Mumbai with another 858 applications pending for approval.  
For the next 10 days Mumbaikars open their hearts and homes to welcome their favourite God, Ganpati. 
The queue for Lalbaugcha Raja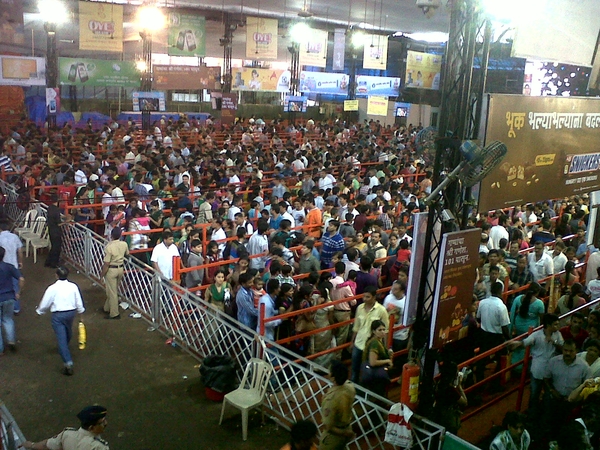 Today, my day started with the darshan of Lalbaughcha Raja that is among the oldest Ganpati temples of Mumbai. The inaguration was at 6 AM today morning and over 50,000 devotees were already waiting in queue which was not less than 2km long for a glimpse of the God. 
With no car parking anywhere near the pandal, be prepared to walk for more than a kilometer to join the queue. The best time is to start early at around 4 AM. It took me 3 hours today when I reached at 6 AM. 
Lalbaugcha Raja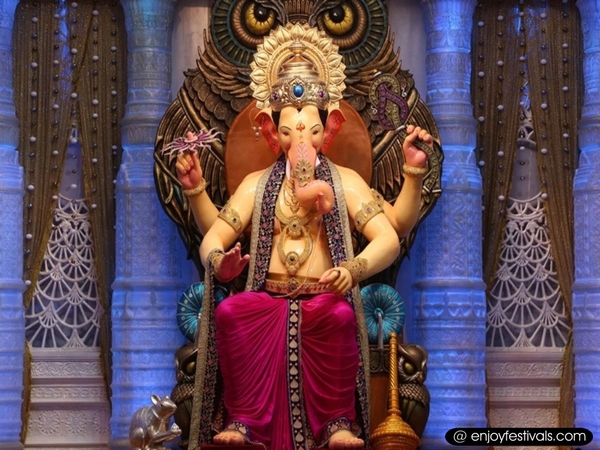 After a long, pushed and shoved queue of three hours, I was finally able to get a glimpse of the magnificent Lalbaugcha Raja. who is this time seen riding an owl. 
There are basically two lines to offer your prayers to Ganpati here. The first is Mukh Darshanachi Line i.e. a glimpse of the raja from a distance without going on the stage. This is for people who have come for a visit or darshan.
The other line is Navsachi Line and this is for those who who want to get their wishes fulfilled. In this line you get to go on the stage and touch the feet of Lalbaugcha Raja and take his blessings so that all your wishes get fulfilled. This line starts 2 days in advance. So, yes, you need to stand around 48 hours in a queue. 
Ganpati the trend setter
Even though Lalbaughcha Raja gets a footfall of over 1.5 million people every year, it is no the only idol that people are so excited about. In fact, you can see some very interesting and trendy Ganesh idols in different mandals across the city. 
Here's this time's trend setters. 
Bahubaali All Over
Just few weeks back, I had anticipated that the markets will this year be covered with Bajirao Ganpati idols. However, it is still Baahubali that is the biggest sellers this year as well. 
And Bajirao Mastani becomes a song
As far as Bajiro Mastani is concerned, you just have to hear this. Same sequence and Ganpati song in the background. Quite a combination!
#ThankGodBappa
For something original, watch this #ThankGodBappa music video. Though, in Marathi, it doesn't fail to keep you glued to the very end. 
Do you have something interesting you would like to share? Write to us at [email protected]
Featured Image Sources &nbsp
1
&nbsp