Chetan Bhagat Got Waxed To Understand "One Indian Girl". The Twitteratis Have The Most Befitting Reply
The "bestseller" author Chetan Bhagat will soon be back with his new book "One Indian Girl" which will his first with "woman's point of view". So, to understand it better, Bhagat got waxed! Well, to say the least, this attempt was not even an inch worth of understanding feminism. 
1. Bhagat's POV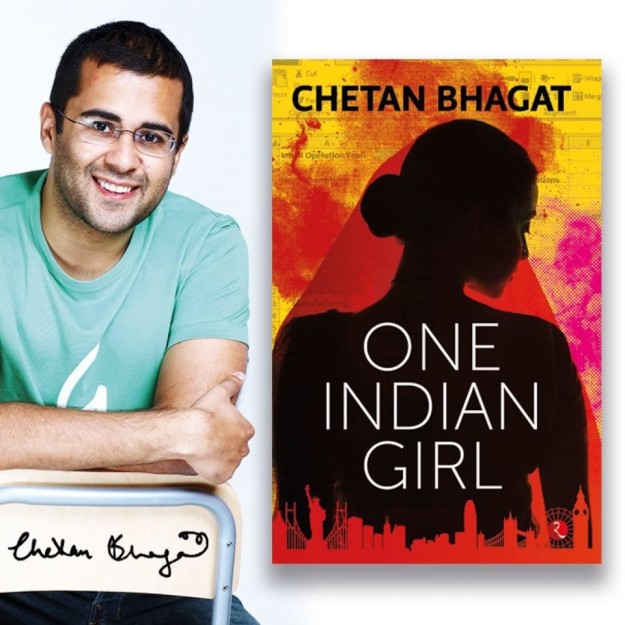 While talking about his new release Bhagat said, "I felt it would be interesting to get in their head. I wrote on feminism because it isn't an equal world for women, and most don't realise it. As a writer, I want to highlight issues in society that affect a lot of people. Feminism affects us all," he wrote on the blog.
2. The Social Media Antics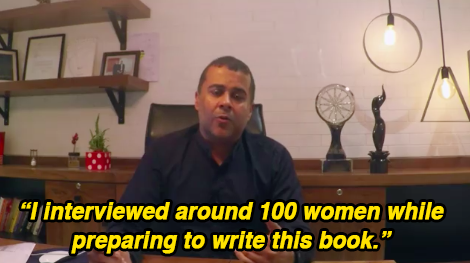 He has been promoting his book through various social media platforms and has recently released a video wherein he mentioned that he researched a lot to understand woman's POV before writing his book.
3. He Got Waxed To Understand Women Better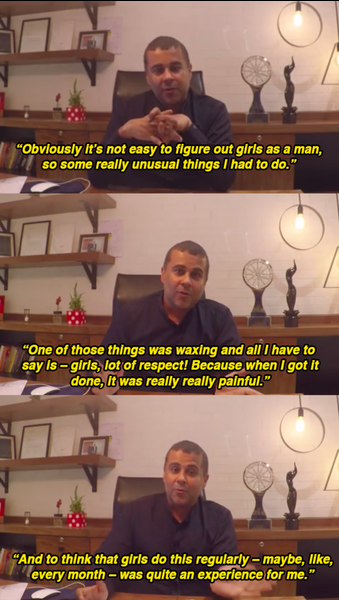 "Obviously, it's not easy to figure out girls as a man, so some really unusual things I had to do. One of those things was waxing and all I have to say is- girls, lot of respect! Because when I got it done, it was really really painful. And to think that girls do this regularly, maybe, like every month, was quite an experience for me," he said in the video.
4. The Twitterati Gave Him The Most Befitting Reply

As soon as he posted it on the social media, the Twitterati world reacted almost immediately. Someone had to tell him that this ain't the correct way out! Obviously, there's much more to a woman enduring limitlessly in the contemporary society. 
5. The Method Acting

It's good to experience the same before going on to write about it, but what Bhagat did was a pure nonsense. This "method acting" has gone way too wrong. But well, the kind of "image" that he had created in the past few years, he has been a king of controversy with his idiotic antics. 
6. The Reply From A User

"Men, has it ever occurred to you that this is not the kind of pain we care about? Could you try something else instead? Like, I don't know, maybe try hailing a decent rickshawala at about 11 PM who doesn't ask you to sit on the right end of the seat (because that's where his rearview mirror is angled at)…?" wrote a random person in a reply to it.
7. Some Things Are Above Parody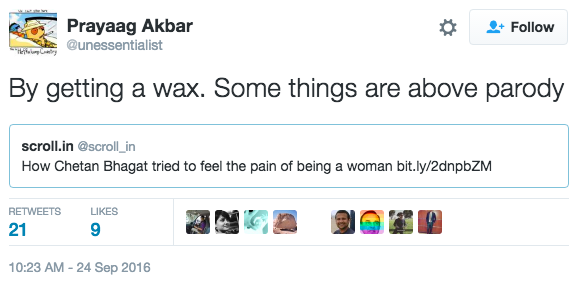 Women have already been institutionalized by patriarchal setup to undergo a lot of pain while meeting the unrealistic beauty standards of society and to make it a benchmark to understand them is nothing but a mockery of what is to be a woman in a "man's world". Some things should be kept above parody! 
Do you have something interesting you would like to share? Write to us at [email protected]
Featured Image Sources &nbsp
1
&nbsp