Arnab Goswami Resigns, Both Media And Social Media Erupts With These Reactions
It came as something of a bombshell last evening; the news that the India's loudest voice and anchor of the most watched English news show in India, Arnab Goswami has resigned from his job at Times Now. The news was cheered by those who are not a fan of his aggressive style and think of his journalistic ethics as dubious at best; his fans were obviously saddened by the news. However in both camps, speculation was rife: why did Arnab Goswami resign? What will he do now?
What we know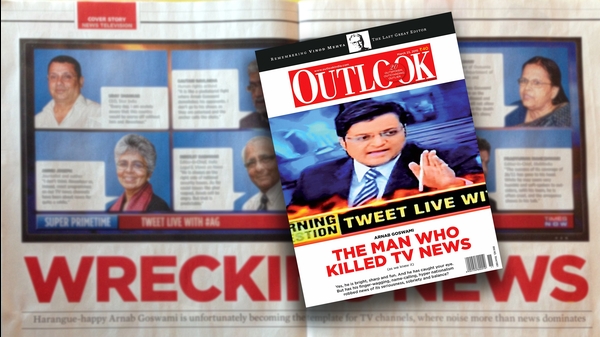 "The Man Who Killed TV News" has resigned. One commentator described his show as nightly tyranny, another described him as "the great polarizer" because of the way he takes side unashamedly, and strips complex issues, of nuance. According to reports, Goswami announced his departure from his post as Editor-in-Chief and President, News, of Times Now and ET Now at an editorial meeting.
What we don't know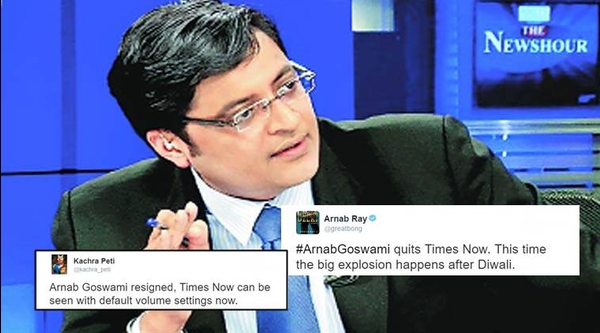 Has Times Now accepted the resignation? What will happen to the Newshour now? Also last night, the Times Now ticker kept saying that the Newshour is back with Arnab Goswami. So has he resigned really? What does it all mean! I suppose this evening will shed some light on the situation.
And what will he do now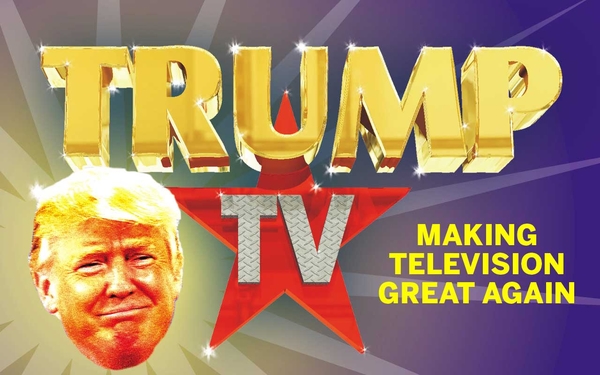 The rumor mill is working overtime of course. There is one source that says he will be setting up his own channel, which will be funded by a South India based entrepreneur; one source said he would join Murdoch and set up Fox News India. Some people also wanted to know if he was planning to join the Trump TV Network.
"A rolling stone"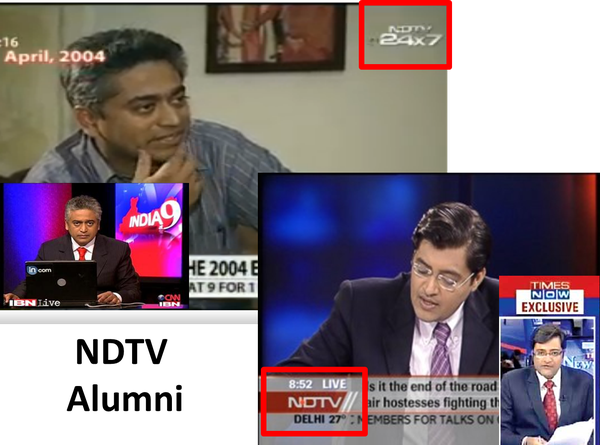 Goswami referred to himself as a rolling stone that gathers no moss. Perhaps he was referring to his departure from NDTV in 2006 after an 11 year stint?
Twitter erupted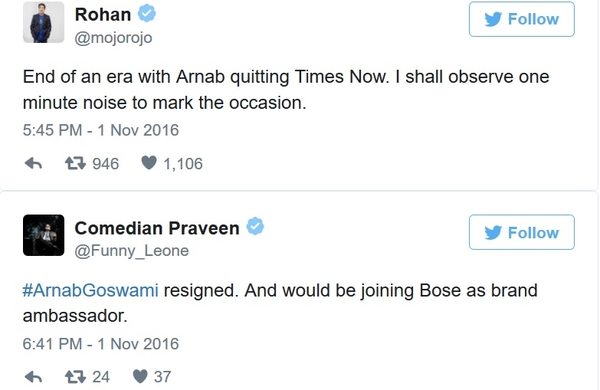 Goswami's admirers, the trolls and actual commentators all expressed their reactions. Among the first reactions called for one minute's noise.
Goswami's multitasking abilities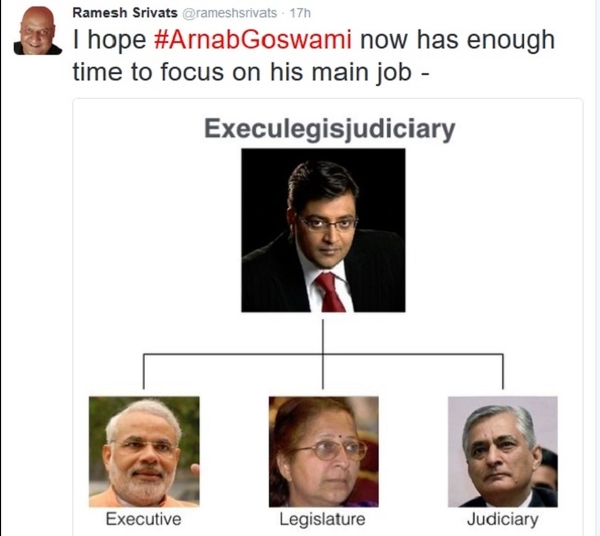 Some made references to Goswami's multitasking abilities – his ability to be law maker, advocate, judge, jury and executioner. This was also pointed out: Times Now must now be desperately searching for panelists who know how to finish a sentence.
Some reacted like this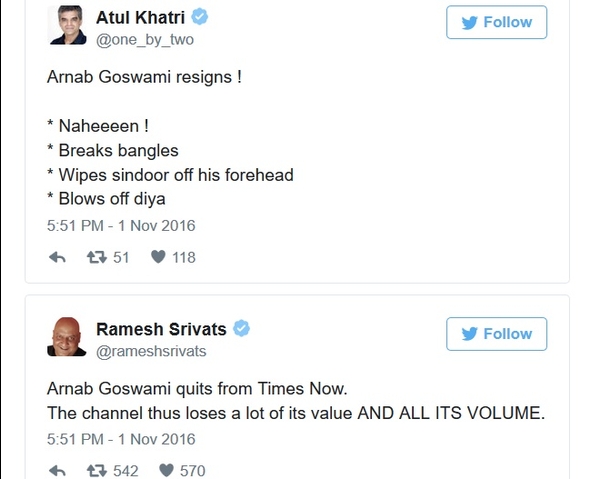 …You know, kabhi kushi kabhi gham.
Speculation was rife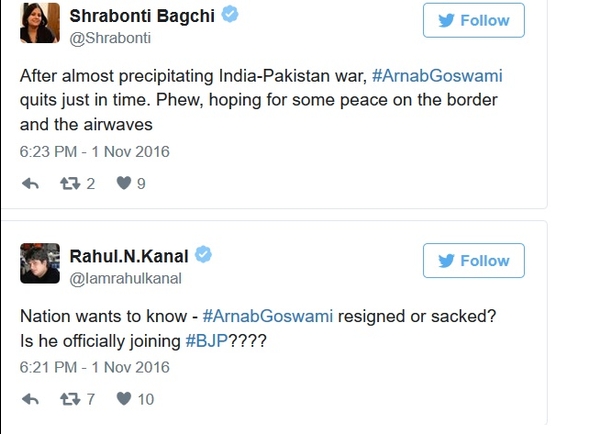 Will he be the next army chief? Will he now join the BJP after spending years as what amounted to the party's covert spokesperson?
There was speculation about his resignation letter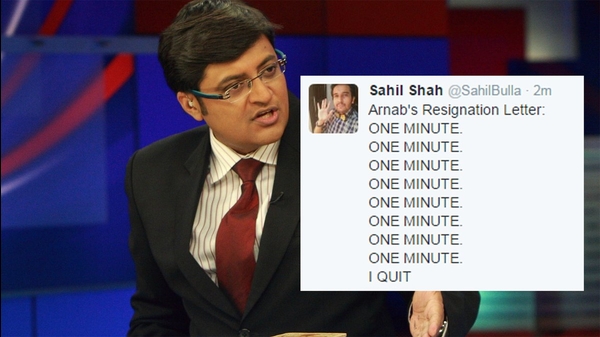 According to one standup comic, this is what it looked like.
There was speculation about the reactions…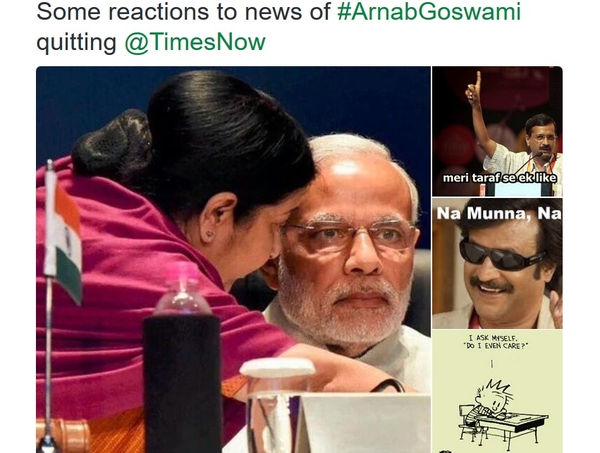 … to the resignation of Arnab Goswami from various political and other quarters.
Was he unhappy with his security?

Perhaps he was angling for Z class security?
And one poll revealed

So is Arnab's resignation a loss to journalism? You decide.
Do you have something interesting you would like to share? Write to us at [email protected]
Featured Image Sources &nbsp
1
&nbsp