9 Finger Licking Street Foods That Are A Must Try In Dubai
The Literati and Glitterati of Dubai are known to hob nob over a multitude of fine dining restaurants but that is not the only thing that attracts residents and tourists alike. The mouth-watering varieties of street food available here leaves an indelible impact on the local eating experience. Neon lit kiosks serving delectable shawarmas, state of the art food trucks and modest family run eateries; Dubai's cosmopolitan street food is worth every buck. Here are some amazing street foods from our list.
Japanese takayoki at Spheerz, Global Village
Scrumptious wheat balls stuffed with octopus, deliciously coated in a rich sauce and served with a side of tempura vegetables and spicy pickle is what Japanese Takayoki is all about. Takayoki is a tasty Japanese snack that has its origins in Osaka and is a big hit amongst Japanese residents in Dubai. However, this is a must try with anyone wanting to experiment with oriental street food.
Oman chips roll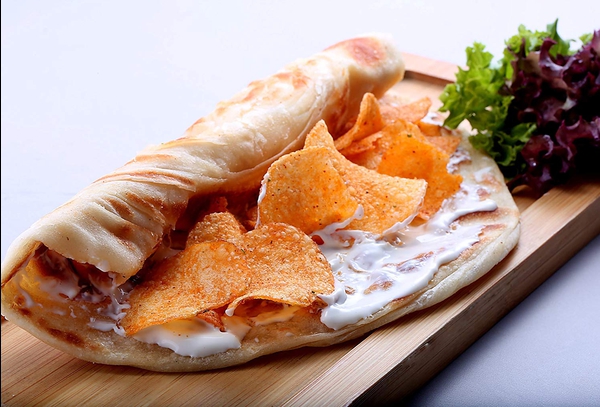 A huge hit with anyone who wants a snack while being on the move, the chips Oman roll continues to be one of the biggest hits in the arena of street food. Reminiscent of childhood memories of having a crunchy snack on a rainy day, it is a simple roll spread with a thick layer of cheese and stuffed with super spicy and crunchy potato chips. A veritable carb fest, it remains an absolute hit amongst young children and teens here.
The Swiss Raclette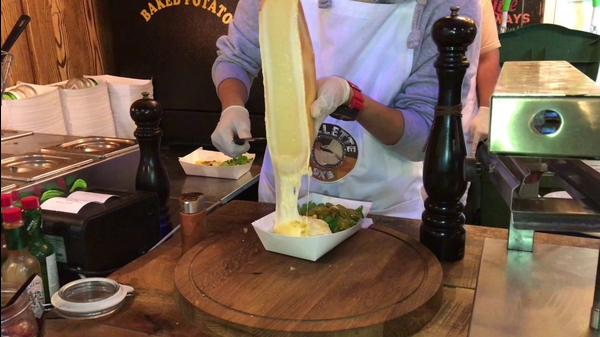 Raclette is a deliciously warm oozy cheese that is primed for melting when heated. Once melted, it is scraped up in generous servings and spread on breads, rolls, meat and raw veggies. Having the right balance of milky goodness and delicious tartness, it does wonderful justice to its foodie accompaniments. You can find this in several kiosks and pavilions at the global village in Dubai.
Samboosa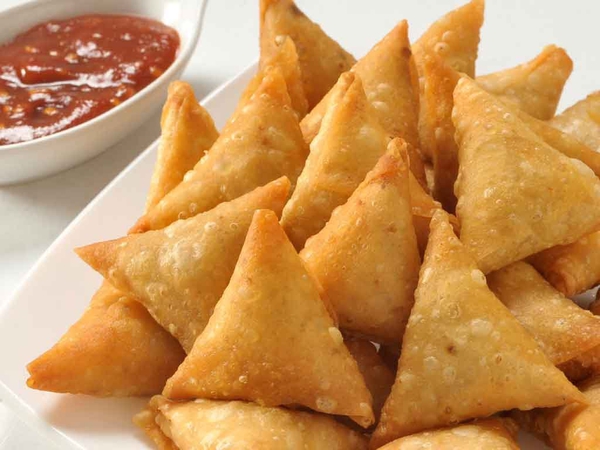 Having its origins in the humble 'samosa' from India, the samboosa is also a triangular shaped stuffed pastry filled with wide varieties of meats, herbs and local Emirati spices that are fine tuned to the local palate. Weight watchers beware, these are so deliciously divine that it is very easy to go overboard. Ideal for a long car journey, the samboosa is the ultimate traveller snack as you can pick them up at any road side tea stall.
Koshari at Al Amoor Express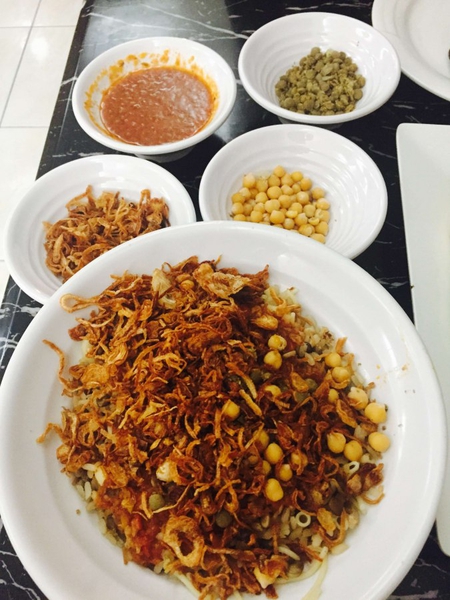 A delicious amalgamation of Egyptian rice, macaroni and lentils, it's a glorious dish that will have your palate on fire. The heady concoction is topped off with a spicy rich tomato sauce, garlic vinegar, chickpeas and fried onions. Just imagine the burst of myriad flavours in your mouth. If this is not heaven then we don't know what is. The lovely dish is easily available at a shoestring budget of Dhs 17.
Mac and cheese melt at the Melt Room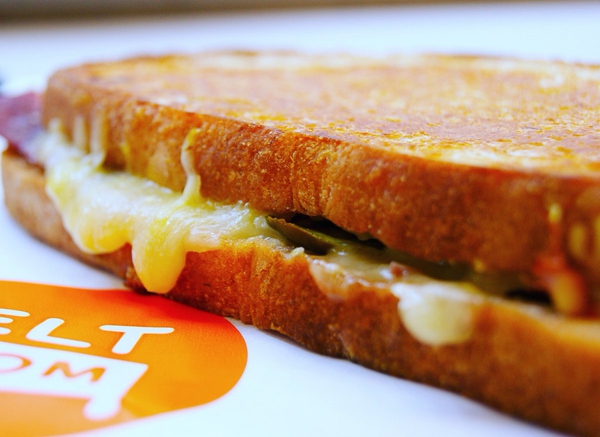 A hit amongst kiddies, it is a succulent dish made from the most kid friendly carbs i.e. bread and pasta. Both of these are beautifully grilled to perfection with a thick wedge of cheese placed in between. A dollop of butter on top ensures crispy goodness. Make this a part of your once in a week treat for kids.
Poffertjes of Netherlands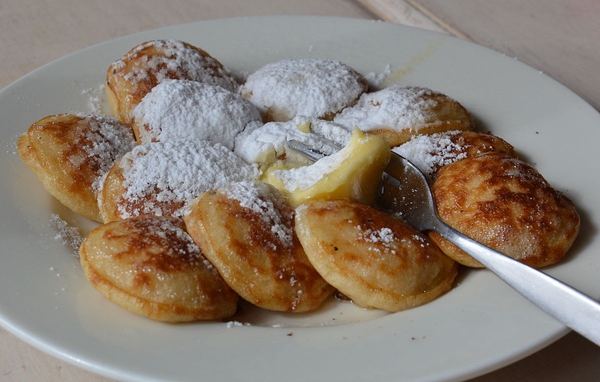 Dessert aficionados can sink their teeth into these delicious mini pancakes drizzled with warm gooey nutella. These light-airy and spongy sweet treats are an absolute favourite at trade fairs, festivals and Saturday night markets that spring up all across Dubai. They are so perfect for a slightly chilly evening walking around and feasting your eyes on some drool worthy market wares.
Manakkish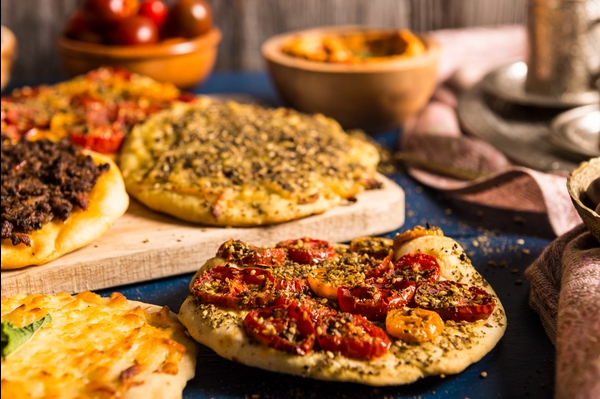 One of the most sought after street foods in Dubai, manakkish is your local variant of the Italian pizza. It is a large flatbread cooked in an oven with different assortments, almost like a pizza. The toppings are many from delicious meats to assorted juicy veggies. Generously topped with yummy herbs and olive oil, it is a local fast food enjoyed by many.
Lugaimat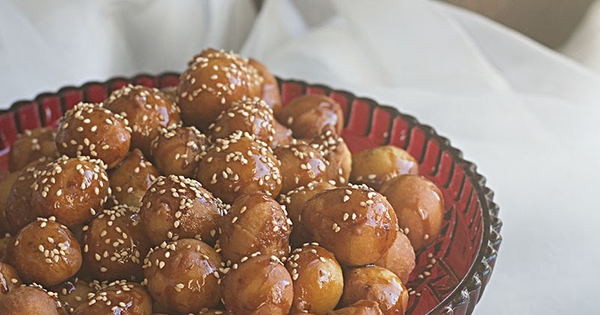 A delicious dessert street food, the lugaimat are small round shaped balls of dough that are fried to crispy perfection from outside and remain soft and fluffy from inside. To add to its richness, just drizzle some date syrup or rose flavoured honey. These are so delicious that you won't stop at one. Guaranteed!
Do you have something interesting you would like to share? Write to us at [email protected]
Featured Image Sources &nbsp
1
&nbsp