The Cold Wave is On – But These Frozen Delights Will Warm Your Heart
Remember all those people flinging hot water up into the freezing cold air to create the Mpemba Effect? Well it seems that the prevailing cold wave conditions all over the Northern Hemisphere have had very many other impacts as well! The cold produced some spectacular results and also seemed to make people do some rather strange things!
Clearly this guy is inspired by Bollywood films
Isko 'sardi se dar nahi lagta, garmi se dar lagta hai'. That may be all well and good, but that can't be the only explanation for this man writhing about and flinging himself around in the snow. He likely watched a lot of Hindi movies where the heroine rolled musically and gracefully down snowy slopes clad in nothing but diaphanous chiffon. Clearly, this guy never heard about frostbite, hypothermia or even chilblains!
Fun loving, SMART dog
This video is going viral on YouTube and Instagram – this dog loves sledding down that snowy slope so much, she takes herself sledding again and again! She pulls her sled up the slope (taking care that snow doesn't pile up in her sled) and off she goes…whee!
The Niagara Falls are frozen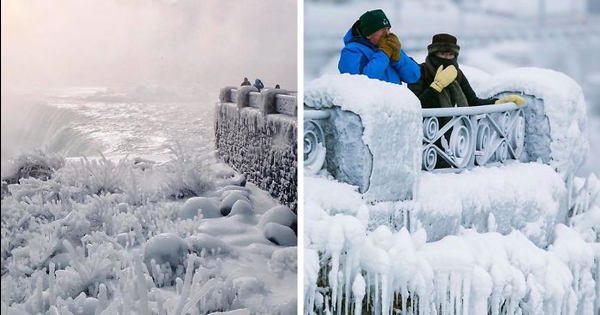 The Niagara Falls are arguably the most spectacular and highly visited waterfalls on earth. Stunning when on full flow, they are all the more so when they freeze over. According to some commentators, the recently captured stills recall to mind fantasy movies such as the Narnia!
Partly frozen
Watch this video, where you can view panoramic shots of the falls; partly in motion, partly frozen in time!
Ice skating with a Bollywood tadka
Bollywood music is one of India's biggest cultural exports. Though Slumdog Millionaire is not a Bollywood film, its music – by A R Rahman – certainly is! And there are other songs in that compilation that are pure, unadulterated Bollywood!
Bollywood seems to be a favourite with ice skaters
In particular, the music of Sanjay Leela Bhansali's movies seems to appeal to ice skaters a lot! What the skater lacks in terms of understanding of Indian clothing is made up by his skill on the ice!
Oldies but goodies
The song, kajra re is still a big floor filler; even over a decade after it first became a hit. Enjoy this performance of Bollywood on ice – it should help to keep you warm in the cold wave conditions we are enduring these days!
Do you have something interesting you would like to share? Write to us at [email protected]
Featured Image Sources &nbsp
1
&nbsp