Some Of These Cool, Crazy, And Unusual Things That Glitter, Are Actually Made Of Gold
Gold has always been a symbol of riches and glamor. Well, the boringness of gold is actually what made it very useful as currency. Gold wasn't too rare or too abundant, but people somehow managed to value it more than any other thing in the world. Gold became the currency of choice and although these days it is no longer used as currency but it has still retained its value.
Well, here are some crazy and cool things made out of gold.
Lemonade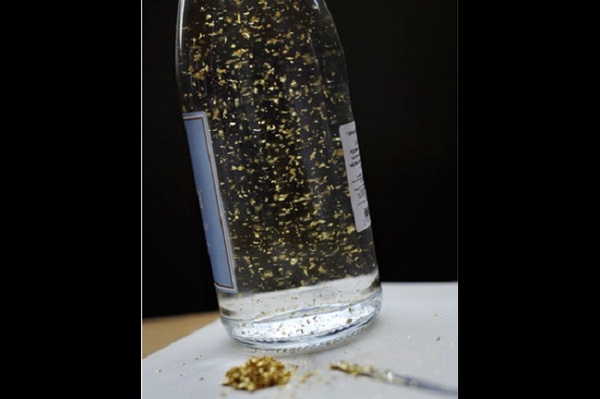 This is a lemonade which is filled with flakes of 24-carat gold leaf in it. Produced by the Elixia Faustin company, on Oct. 27, 2010, in Champagnole, eastern France this bottle of lemonade is still available to the highest bidder.
Ice cream sundae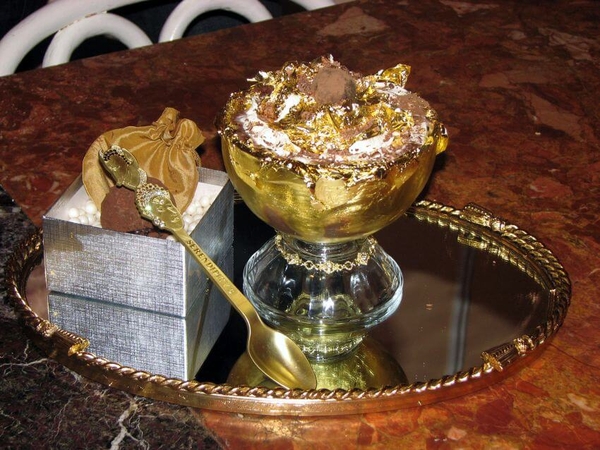 This is the most precious Frozen Haute Chocolate in the market because it is topped with 24K gold. This precious ice cream sundae is displayed at the Serendipity 3 restaurant in New York. With a helfty price tag of $25,000, this frozen haute chocolate was declared to be the most expensive dessert by guiness world records.
Bikini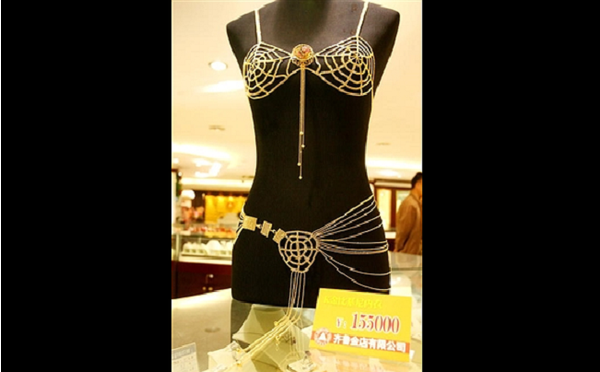 Have you ever wondered about no thread bikini? Well, if yes, here is a bikini which has no thread at all. Completely made with gold, this bikini is made of 18k gold and is designed by a French designer.  With a price tag of $19,400, it was displayed at Jinan store, Shandong Province China.
Gold made dress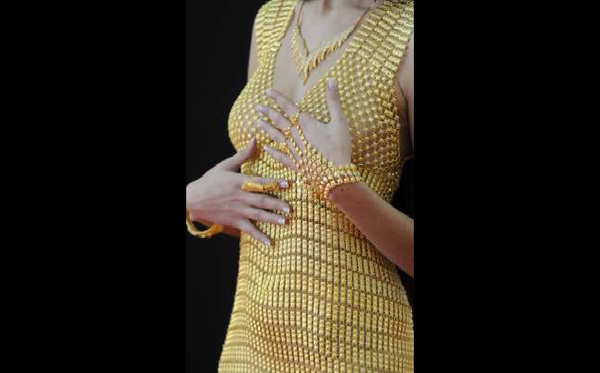 Made by a jeweler from Kahramanmaras, in Izmir, Turkey, this model is wearing a 22K karat golden dress.  This dress weighs 3 kgs and contains 400 pieces of gold in all.
Gold toilet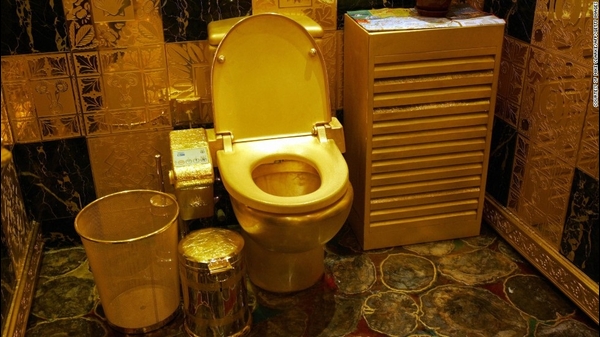 Who would desire to poop in a toilet which is made of gold? Valued at $4.8 million, this is a gold and gem-encrusted toilet in Hong Kong. This photo was taken in 2005.
Gold contact lens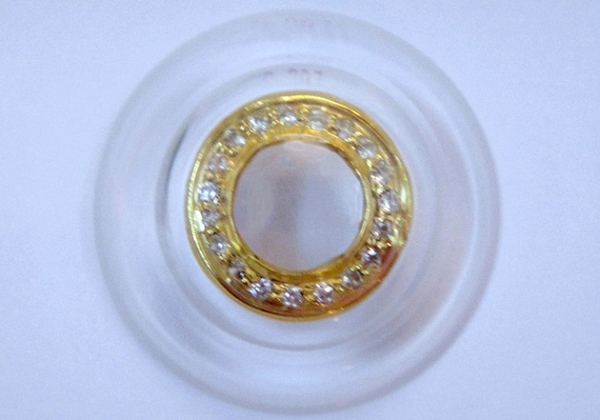 When it comes to gold, Indians can't resist themselves.  Indian optometrist Chandrashekhar Chawan started developing and designing gold and diamond encrusted contact lenses that would weigh not more than 5 grams. However, the first pair of gold and diamond encrusted lens was showcased in August 2011, in Mumbai. These contact lenses were available at $15,590.
Gold cheese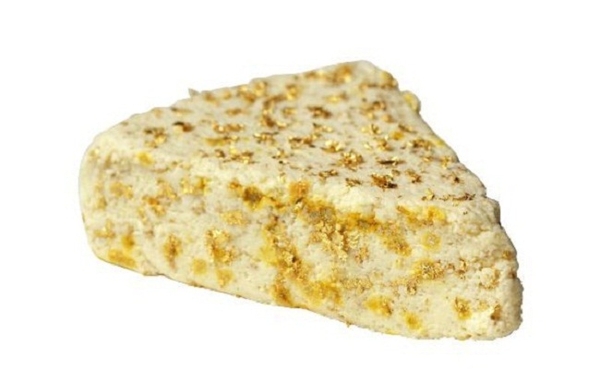 Clawson Stilton Gold cheese is known as the most expensive cheese ever produced in the world. With edible flakes of gold over it, this cheese is priced at $929.40 per 2.2 lbs. (2.2lbs = 1kg)
Calendar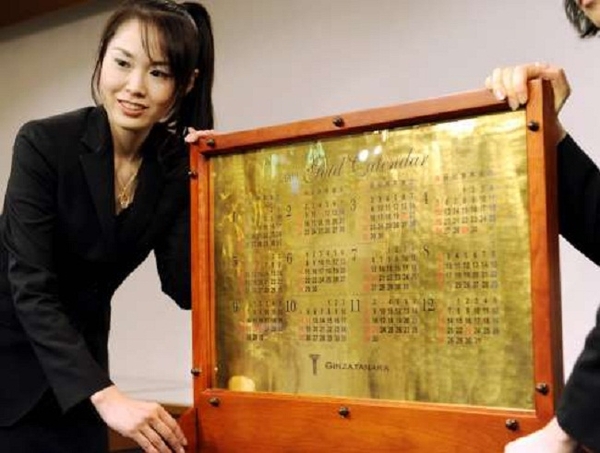 Now this is called craziness! Employees of Japan's jeweler Tanaka Kikinzoku display a 2009 calendar made of 6 kg pure gold at the company's shop in Tokyo. This 67 x 42 cm gold calendar is valued at $287,000.
Shirt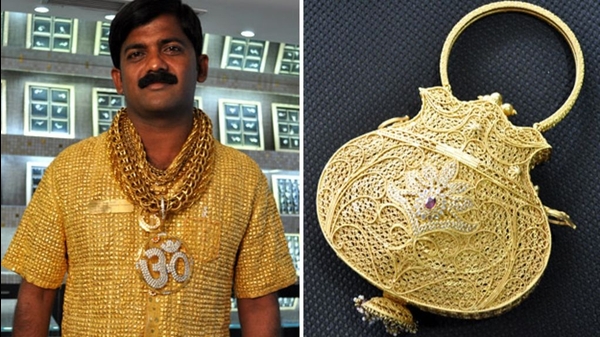 Indian businessman Datta Phuge was the first person who was spotted wearing a shirt completely made of gold. Mr. Phuge is from Pune, Maharashtra who was photographed while wearing a shirt made of gold worth $19,000.
Gold dumbbells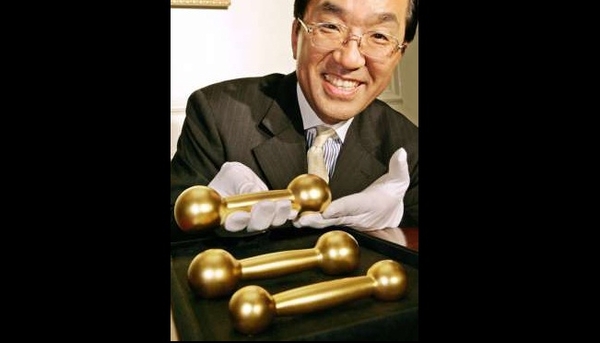 Ginza Tanaka president Hideya Okamoto was photographed while displaying dumbbells completely made of gold at a Tokyo hotel. Weighing around 1kg to 3kg, this dumbbell was sold for between $21,500 and $64,500.
Shoe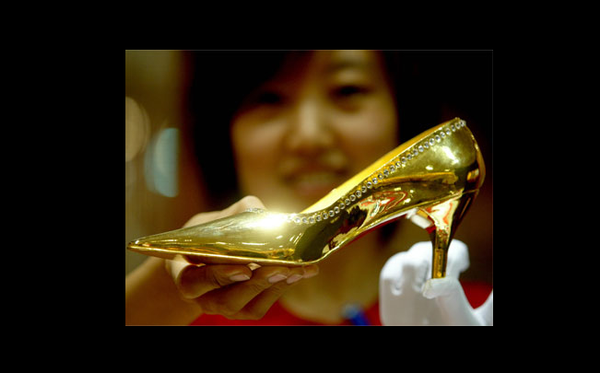 Weighing more than two pounds, this classic golden shoe was displayed in a store in Shenyang, northeast China. This golden shoe is designed by three stylists and five artificers, this shoe was one of the most expensive ones with a price tag of $41,000.
Do you have something interesting you would like to share? Write to us at [email protected]
Featured Image Sources &nbsp
1
&nbsp