Sacred Games – Is It Worth Your Time and A Netflix Subscription?
The new Netflix series Sacred Games is in the news for many reasons. To begin with, its interesting that the western press is calling it India's answer to Narcos and describing it as Bollywood's first foray into serious TV. Then of course there is the fact that the serial is stirring up all manner of political controversies. Clearly this is something that piques my interest. But is it worth my time – and a Netflix subscription?
Based on a novel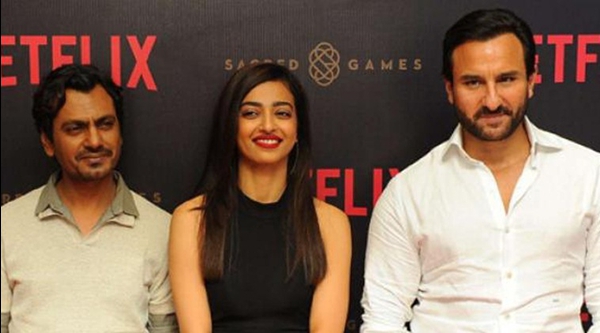 The webseries is based on a novel by Vikram Chandra (the novelist based in the US, not the Indian journalist). The story is about an upright cop who is warned of a terror plot, who then tries to prevent the attack. This is to be a four season series. The first season comprising 8 episodes was made available on Netflix for streaming on 6 July 2018.
Promising
The series stars Saif Ali Khan who I have always felt is the most underrated and underestimated Khan of Bollywood. It also stars thinking woman's crumpet, Nawazuddin Siddiqui and the rather stunning Radhika Apte. Its directed by Anurag Kashyap and Vikramaditya Motwane and adapted for the screen by Smita Singh, Vasant Nath and Varun Grover. It is gritty and realistic and there is a marked absence of the dramatic music, melodramatic music, interminable length and the poor production values that typically mark Indian serials. The series receives very good reviews from viewers as well as the international press.
Flawed humans
By all accounts the series shows us the unattractive side of humanity and does nothing to glorify heroes or to try and show them as larger than life. The story being centred around the underworld would make this necessary if it was all to be believable I suppose.
Controversial
Congress representatives have criticised the series because of its political overtones and its less than flattering references to late Rajiv Gandhi. It hasn't helped that BJP members have tweeted to mock the Congress taking offence. Some complaints have also been filed. In other words, all in a day's work for our political class and nothing for viewers to pay the least bit of attention to.
Charge of "Brahmin bashing"
The name of the series itself is indicative of its content. So it is really no surprise that the series speaks out against the way religious leaders manipulate, control and create fear among people. Many have seen the content as sympathetic to minorities and as falsely raising the bogey of saffron terror. Several viewers have tweeted the view, that there is too much gratuitous violence and swearing in the film.
People are binge watching Sacred Games
The series is gripping and engrossing according to viewers. By releasing all 8 episodes together, Netflix has made it possible for people to binge view the series. The series is to be dubbed in four languages and set to release in 190 counties
Sacred Games official trailer
I think I'll start that Netflix subscription after all.
Do you have something interesting you would like to share? Write to us at [email protected]
Featured Image Sources &nbsp
1
&nbsp