Manushi is Ms World – Reactions to Chillar Winning
Unless you've been completely off the grid (or living under the proverbial rock), you have heard about Manushi Chillar – the 20-year-old medical student from Haryana having won the Miss World title. The last time an Indian woman brought home the crown, was 17 years ago, when Priyanka Chopra won the title. It has been a long drought since then, and even though many of us now question the very relevance of beauty pageants themselves, Indians everywhere are cheering.
Here is how she won
People are cheering her win, as well as her answer to the question – who do you think deserves the highest salary. While some may dismiss this as a clichéd response, this is, in fact, important to draw attention to the fact that all that a mother does for her family and home is unpaid labour and is also largely unacknowledged.
6th Ms World title for India
Tweets pointed out that this is the 6th time that a Ms India has been crowned Ms World; only Venezuela has won as many times.  
Miss Indias who became Miss Worlds
The previous winners of the title from India have been 1966 #ReitaFaria, 1994 #AishwaryaRaiBachchan, 1997 #DianaHayden, 1999 #YuktaMookhey, 2000 #PriyankaChopra, and now we have 2017 #ManushiChhillar making us proud. 
The proud parents
Framed here with Manushi are her proud parents.
Bollywood is delighted!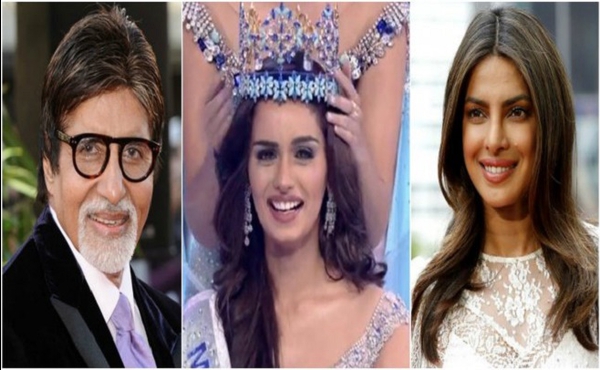 Always active on Twitter, Amitabh Bachchan expressed his pride and happiness at the win. Anupam Kher and Deepika Padukone too congratulated Chhillar. Randeep Hooda applauded his fellow Haryanvi on her win. Looking at how most pageant winners find their way to Bollywood, there is probably some anticipation about the possibility of a new entrant into Bollywood? Even Manushi's image consultant does not rule out the possibility.
Former title holders were all praises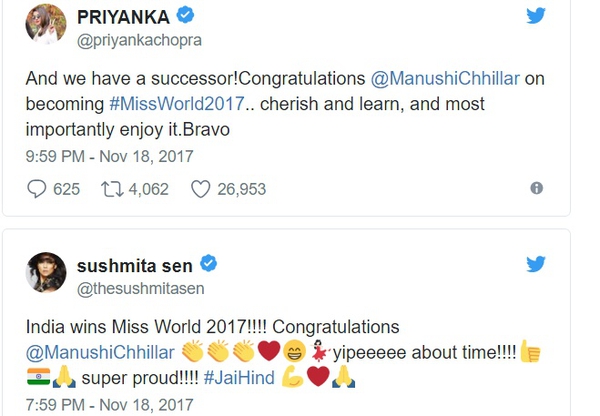 Former Miss World Priyanka Chopra, former Miss Universe Sushmita Sen, former Miss India Neha Dhupia, former Miss Asia Pacific Dia Mirza and many others congratulated her for bringing back the crown.
Congratulations from the PM, CM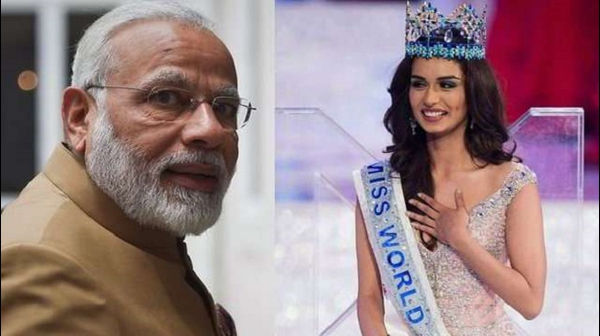 Prime Minister Narendra Modi congratulated Manushi and said that India is proud of her accomplishment. Chief Minister of Haryana, Manoharlal Khattar also congratulated "Haryana ki Beti" Manushi.
You've definitely seen this one
You probably received this via WhatsApp or saw it elsewhere on social media: "India's Chhillar (the commonly used word for change or coin currency) now on Global records. Ache din aa gaye hai" – someone's snide attempt at showing how the ruling party is anxious to take credit for pretty much any accomplishment by anyone, anywhere. And then there was this tweet by Shashi Tharoor that stirred up a tweet storm – people were upset at this 'insult to women'. Tharoor later apologised to those who were offended by his 'bilingual pun'.
Meanwhile…
This standup comic could not resist making a dig about the usually abysmal women's empowerment situation of Haryana, likely alluding to the fact of the poor sex ratio, issues relating to female health and education in the state. Perhaps he is hoping that Manushi will be able to do something to promote women's empowerment in her home state?
Do you have something interesting you would like to share? Write to us at [email protected]
Featured Image Sources &nbsp
1
&nbsp