Get Your Weekend Trailer Fix – Watch Raees & Baywatch Trailers Here
Every Indian is interested in knowing what top stars Shah Rukh Khan and Priyanka Chopra are up to; here as well as there (since PC is arguably one of the most famous and genuine crossover stars to make it in the USA). After much abated breath and gasping anticipation we finally know what the two superstars are doing. With the release of two of the most awaited trailers of the year – Raees and Baywatch within a space of just a couple of days, fans are delighted and amazed and full of anticipation for the actual movie releases.
Baywatch trailer
Rejoice men! The red swim-suited women jogging in slow-mo; the synchronized heaving bosoms are back! David Hasselhoff is not, but who cares! We have Dwayne "The Rock" Johnson instead; in all his muscled glory! And there is Zac Efron in his muscled glory… more eye candy for the ladies! The trailer promises a movie full of action, adventure, drama and bits of humour thrown in for good measure… a rollicking good ride for the money!
But what about PC?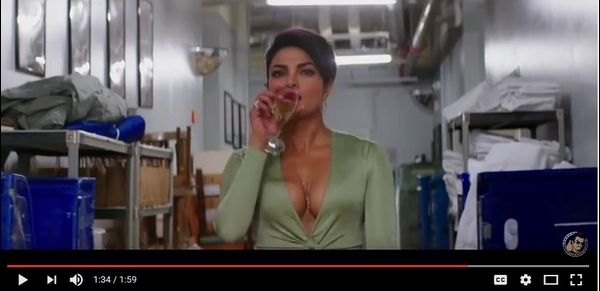 Hold on! This was supposed to be all about what PC did next; Priyanka's big Hollywood film? All we saw of her was a blink and miss appearance at about 1.34 … yes that was it! Let's hope her entire role in the film is not so blink and miss. We heard that she plays Victoria Leeds in the film and Victoria's a right [email protected]$# by all accounts… she's the bad guy in the film. We have a long wait ahead though – the movie releases only in May of next year.
Raees trailer
It begins with Ammijaan kehti thi… and ends with Baniye ka dimaag aur miyabhai ki daring! So when SRK says Aa raha hoon, fans know they are in for a treat (in fact SRK fans know this without even watching the trailer). His swagger as a ganglord, his matchless screen presence, the intensity of his kohl lined eyes as he gazes at his lady love played by Mahira Khan leap off the screen at you. Nawazuddin Siddiqui's relentless and dogged pursuit of this criminal quarry is the other standout aspect in the film trailer. Promising the full paisa-vasool experience, SRK is coming to a theatre near you on 25 January 2017. Meanwhile, enjoy the trailer!
Do you have something interesting you would like to share? Write to us at [email protected]